Summer Report from LIT 2020 Member
By Nicola Pensato
Camp is a place where young people grow and learn and are shaped into the leaders of their worlds, and this year was no exception to that work even though the methods had to be different than usual. Going into a cancelled summer season, the year-round team at Pioneer Camp Manitoba found ways that a Leader In Training program for us 10 young ladies who had been already signed up, could be safely provided. It was a wonderful moment when I heard the program was on! I was so excited to be able to see my friends and embark on this amazing journey to becoming a camp leader. I was a little disappointed that we were not doing a river trip but the amazing experience of the program, getting to know the other girls, leaders and myself better was an amazing experience I would never give up.
Training sessions were held at CMU in day camp format in Winnipeg at the beginning of July, and partnering with A Rocha Manitoba in their 4 weeks of kids' day camps gave us new leaders the chance to put our learnings and skills to practice. While I had led a cabin before, this was a new sort of challenge. I think with having in-cabin campers you can pour so much of yourself into them with encouragement, prayers, or hugs and high-fives before bed. Day camp was a whole different experience, although equally as fun and we got to see the kids' growth in faith and friendships, and how their eyes would light up when we did an activity they loved. I saw God in the children's pure curiosity and joy, and I felt God with me giving me strength and patience after a long day.
Yes, this LIT year was very different than hoped, but I think we got the opportunity to bond as a group of strong young women in a deeper way because we were also helping each other cope during COVID. I mean not everyone can say they did LIT during a pandemic! We feel all got stronger mentally, spiritually, emotionally, and physically and literally cannot wait to get to camp next summer.
Even amid this odd season, God is still working through our camp leaders and staff! While we see this from various camp related projects like the online girls camp fun we had or the Food Share program that is still running, He's shone a light through a hard situation by giving His grace and love to the staff as they continue to do His work
Visit Pioneer Press page for more stories
Go to Pioneer Press Page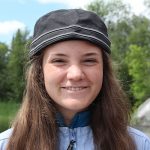 Nicola Pensato has attended camp at MPC since 2012. Her mother was the administrator for camp in the city office in 1996.
Related posts