Being on Staff for the Summer of 2020
A reflection from Anna Skinner
Life at camp during COVID-19 has been different and adventurous. From an excess in repair jobs in preparation for next year, to daily fluctuating numbers for kitchen staff, to the much needed general maintenance of the island, there has been no shortage of work to be done out here on Mackinnon Island. The number of tasks for small groups of people is never-ending. However, thanks to the fact we were on an island, we were fortunate enough to not have to constantly worry about infection.
At the beginning of the summer, limited Ontario numbers kept our collection of staff at around 6. This meant that we all worked doing a variety of tasks in all departments. For all of us there was a bit of a learning curve because of the switching of departments, instead of sticking to the same general tasks, as is often the case in the spring/summer.
By mid July, we were permitted 50 people, but as we wanted to keep our costs low and we were doing dishes by hand, we tried to keep our numbers around 25-30. Thankfully, because of the increase, we started to be able to host small work weekends to aid with the maintenance and projects and ease the workload of the small group of us that were consistently on the island. In addition, we had several weeks of junior staff come to help us with our efforts, which has been essential to the progression of our building projects.
SITE
Simon Janzen, Seamus Mckelvey and Jack Osiowy were the consistent site staff of 2020. Jack helped work on/improve lots of the electrical, including the installation of exit lights in the dining hall. Seamus worked on a number of repair projects, including many boards along the boardwalk that were in need of being replaced. Simon helped with a lot of the general site prep that the spring staff typically do, including moving all the canoes out of BMP. Simon, Jack and Seamus also all helped with the general chores and maintenance of the site, as well as assisting the small groups of workers that came out to work on the new building. "It was busy because there was less staff to do jobs but we had fun doing it", said Simon. There was also a lot of focus on finishing/progressing on the new building.
KITCHEN
Cristina Mace and Anna Skinner were the main kitchen staff of 2020. The kitchen functioned relatively normally, aside from a few challenges because of a lack of space, equipment, and extra hands. We started off the season with a small upright
fridge/freezer and electric stove, both of which normally live in the Duplex. However, as our numbers increased and the amount of food we received increased, we turned on the gas stoves, the grill, the main fridge and the propane ovens. This helped ease the food prep process. In addition, fluctuating numbers kept us on our toes, sometimes going from 5 to 20 people in an afternoon. Workdays were long, but thankfully because of reduced numbers on island, we were fortunate to get a couple hours off in between meals, during which we worked on site projects or relaxed and enjoyed the sun and the lake. We also were happy to have some increased flexibility and creativity regarding meals.
All in all, this summer has been interesting. It has come with many unknowns and has involved a few learning curves, but we have gotten to grow closer as a community, leaning on each other for support, helping each other and deepening our connections together. We are grateful that we had the opportunity to continue serving a community that we love, in a place that we love. We are very thankful for the support of our camp community over the summer and look forward to next year!
Visit Pioneer Press page for more stories
Go to Pioneer Press Page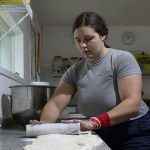 Anna 'Peppo' Skinner has been a part of the MPC community since her mum, Ruth 'Flossie' (Davies) was pregnant with her while directing Girls' Camp. Having been on the island as a staff kid, a camper, and LIT and a consistent returning staff member, Anna cannot imagine a summer without being at camp. She is currently finishing her French Immersion Education degree in Saskatoon.
Related posts