Generation to Generation Site Renewal
By Pete Dearborn, Project Director
Covid has definitely impacted our Generation to Generation Site Renewal efforts. Our camp season began with no access to the site until mid-May, and then health protocols limited when volunteers and workers could arrive. However, we still moved our new building forward significantly, especially in the late summer and well into the fall.
It was wonderful to host and work alongside the crew that came in early September to repair and rebuild the fireplace. We are thankful for the crew from Norm Blerot masonry who came and completed this work. They donated all the material for the project and were happy to be a part of this amazing project. As this piece was required prior to several next steps, and once this was done, we were able to complete the walls around the fireplace. It also meant we could insulate the floor. In October the lookout facing the lake was fitted with iron grating, and you can see it in my report video, posted on the camp website.
One piece of excitement was that a "time capsule" hidden in the old fireplace was found by Norm's crew. It was very enjoyable seeing all the names from 1969, those who had been a part of building the original fireplace. Dr. Harvey from Thunder Bay took leadership. Yes, we do plan to hide another time capsule. There are many unexpected blessings in this project. We coincidentally came across Steve Bigelow who owns the Rush Bay Road Quarry. None of us knew he attended MPC in Bill Mason's day and learned to canoe by Bill. Steve donated two large flat rocks and a single solid rock mantle for the fireplace. What an incredible blessing and story to pass on. The rocks are in place after considerable effort, and with many hands involved in the transportation and moving of them. The two flat pieces are installed as a hearth, and at the interior entrance. The Leadership Training Center is scheduled to officially open early spring 2022. We hope you can come to the island for this and celebrate with us.
Generation to Generation Site Renewal is a step-by-step plan for the future of our site on Shoal Lake. The next projects include installing bulk propane to the island and a new rock retaining wall for the beach. Looking even further down the list of needs includes an extensive renovation of Bill Mason Place (new siding and all windows replaced) and staff housing where the Chalet building now stands. These are crucial upgrades as our site reaches 80 years of use. God's provisions and your continued support in every way enables the progress of our site care and renewal. What an incredible statement we as a community have committed to the next generations.
Stay connected with us for all these important projects. Please come and celebrate the opening of the Leadership Center in spring of 2022.
A heartfelt thanks to all who have partnered in Generation to Generation thus far.
Gen to Gen Director
Pete Dearborn
Visit Pioneer Press page for more stories
Go to Pioneer Press Page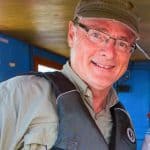 Pete "Drifter" Dearborn
has served at Manitoba Pioneer Camp for over 30 years. He and his wife Cindy have four grown children and three grandchildren. Pete has significant experience mentoring and leading young people, having worked with InterVarsity Christian Fellowship's high school ministry for 15 years before being appointed to direct the camp in 2012. In his current role as project manager, he turns his focus towards site renewal and nurturing relationships with alumni and supporters.
Email Peter: [email protected]
Related posts