Looking to the Future
An InterVarsity Pioneer Camp Manitoba Site Renewal Project
Now Is the Time
At InterVarsity Pioneer Camp Manitoba
we are committed to investing in young leaders in this current generation and for generations to come. We love seeing these young leaders go on to influence their world. We want to keep doing this for years to come.
Our sites on Shoal Lake provide space for every camper, staff and visitor to experience restoration, healing and transformation. These are safe places where people discover who they are and who God is. These are places where people experience the good gifts of community and creation and where they have fun!
Our sites have been serving this ministry well for more than 80 years. They have been well used by thousands of campers who consider Shoal Lake their summer home. We acknowledge that there is need for some crucial upgrades and site improvements.
Please Invest now and help us serve current campers, staff and visitors plus create space for growth. Your gift will also safeguard the camp for future generations.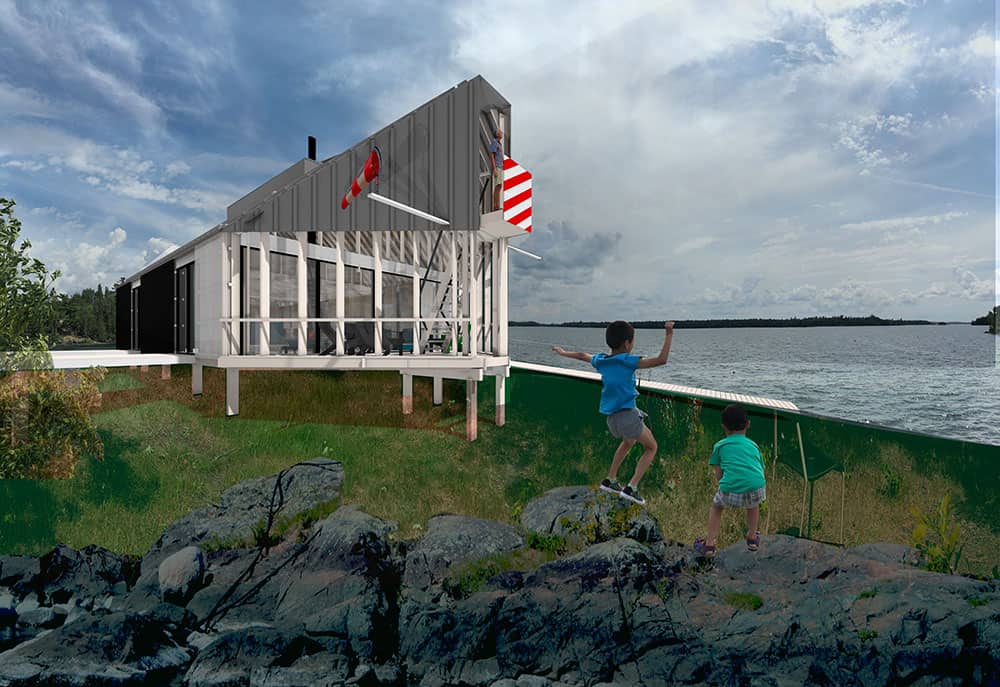 Our Generation to Generation campaign is about a flourishing ministry at Pioneer Camp Manitoba. It's a step-by-step campaign: as we fund and finish one project, we will undertake the next one. We are well on our way into Phase 2, as we have worked on the bulk propane project and staff cabins this summer. With the permit to do the front bay wall, we are moving on raising funds for that project, with goals to complete it by June 2024.
Phase 1 of our renewal began with the new Leadership Training Center, which we call the 'Ship'. This facility opened in June 2022 and has proven multi-purposed in its ability to be an effective learning space which is comfortable and inspiring. It also is a launching or landing space for our river trips, offering space for both briefing and lodging.
Fundraising Goal for Phase 1: $250,000
We have reached our goal of $250,000 for Phase 1!
Phase 2  of our site renewal has included staff housing renovations, converting the main site to bulk propane, the revitalization of the front bay wall and area, and completing the last two camper cabin renewals. We are currently working on the front wall project with hopes to complete the final camper cabins in spring of 2024. See the Progress update, below, and contribute today as we continue to raise funds for this Phase.
Fundraising Goal for Phase 2: $185,000
$85,100 raised
Donate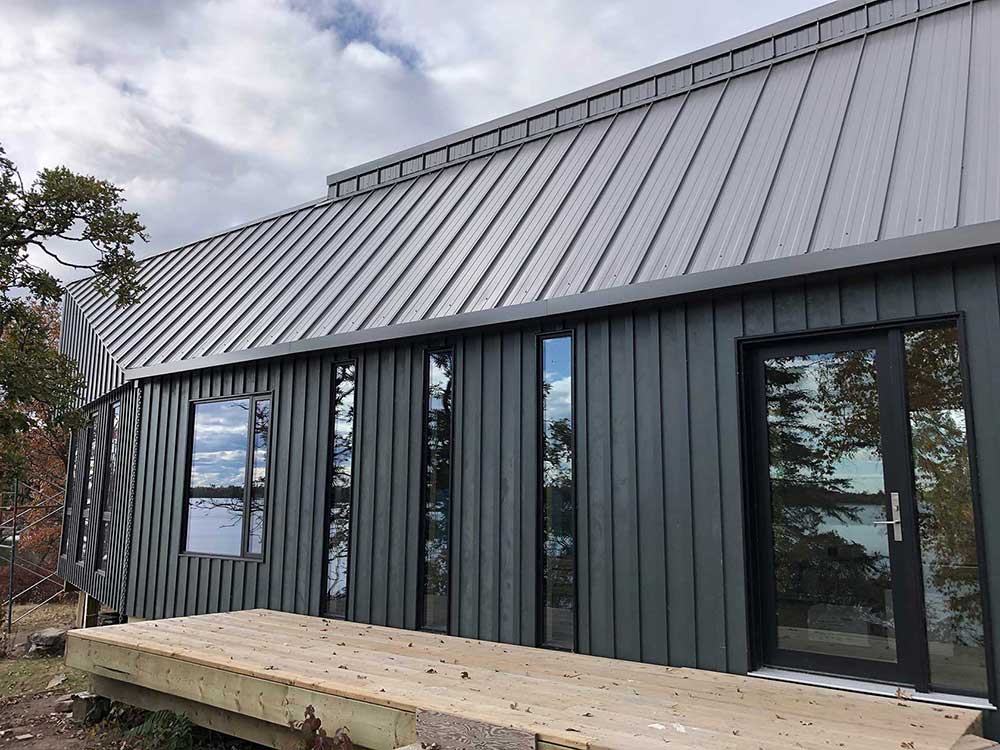 So please join us
We will keep you up to date as we progress both with fundraising needs and with project goals. Sign up for development updates to receive our newsletters.
Dedicated to Ralph Bueckert
Many thanks to Herb Enns, for his insightful collaboration with us and beautifully thoughtful design of the Leadership Centre. The building itself will be much like a lantern, a beacon that looks out over the lake. This purposely honours Ralph Bueckert, a staff member who drowned while serving as a boat driver at camp in the 1960's. This building will stand as a testament to his service.
Donate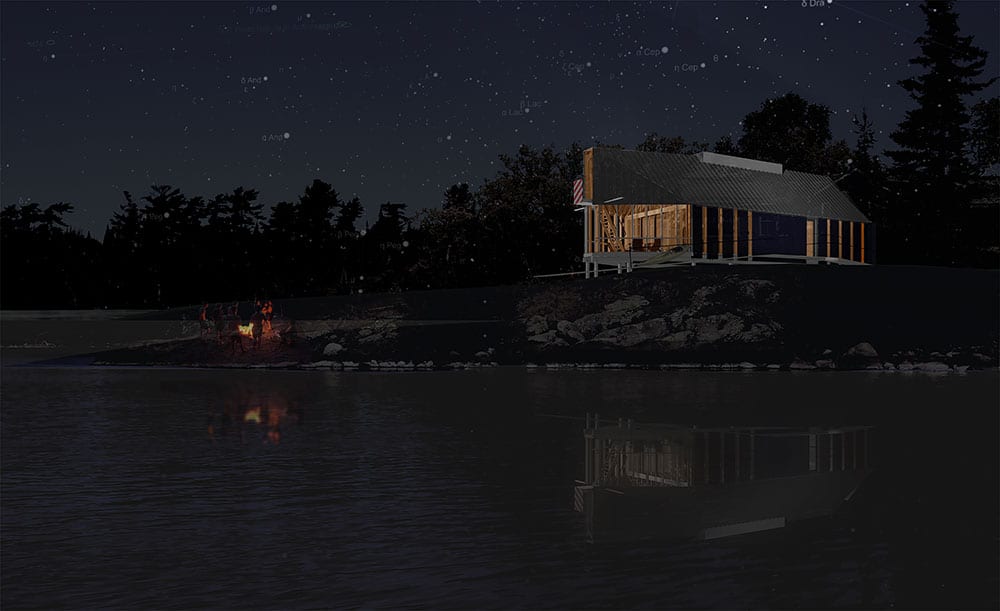 Give specifically to the site renewal in any way you can.
Together, let us be sure that the wonderful story of Pioneer Camp goes on for many more generations.
Donate
Progress
Generation to Generation Update
September 2023
By Pete Dearborn
Director, Generation to Generation
It is time to get a good Generation to Generation Site Renewal report out to you. I must start with a heartfelt thanks to all who have supported our site renewal effort. There have been some challenges along the way, most notably Covid, but the effort has been tremendously rewarding as well, both to myself personally and to MPC generally. It is important to note that the work completed with Gen to Gen has greatly facilitated and supported the mission and purpose of camp. The Leadership Center on Bunny Point for example has been used with great success for small chapel sessions, daily meetings for prayer and bible reading for the operations team, and of course LIT training sessions. It has also provided some housing for short periods of time in our busiest weeks this summer when no other bunks were available. And also used for staff social times. What a benefit to the mission and purpose of camp.
Spring and summer 2023 saw good progress on a number of different projects at camp. First, a significant amount of my time and effort was directed toward dock rebuilding after the record high water levels of last year. This was truly a disaster response, necessary for us to carry on with camp this season. The dock work was done with good assistance from our summer staff and several volunteers. Essentially all the decking in front of the Outtrip Center was replaced. This was completed just in time for the May Long weekend and canoe school. Next, I led a team to replace the boat crib dock at Cash Island just in time for the first campers to use when they arrived in early July. We removed all the damaged cribs and used the rocks to build one large crib to support the heavy ramp. Floating docks will be added to the new crib in the future. The largest project was building an all new 50 foot crib dock at the Landing on 39. This took three cribs the last one in 7 feet of water. And finally we added some floating docks for sailing camp to use.
The Phase 2 projects to report on are the bulk propane effort and the front bay retaining wall.
After building a gravel pad for the bulk tank behind the kitchen and getting the tank and propane delivered this past winter, over the ice, we trenched an underground propane line from the bulk tank to two different places on the outside of the Dining Hall. All our cooking stoves are now running off the bulk tank as well as the kitchen sinks by way of an on demand efficient propane water heater. Much safer, more efficient, and eventually no more handling approximately 50 tanks weighing 150 lbs each. We plan to eventually have all our propane heaters connected to the bulk tank. Propane will be delivered over the ice as needed.
After waiting months for a work permit from MNRF we recently got the permit a week or so ago so now work can begin on a new beach retaining wall to replace the old rock and cement wall that was seriously collapsing the last few years. We will use interlocking concrete retaining wall blocks weighing 1300 lbs each. The visible side of the blocks will have a rock finish and will be very attractive. During the summer we sourced not only the blocks but the other material we need like crushed rock for drainage behind the wall. Delivery of the blocks, gravel, and crushed rock will begin as soon as possible, using Karl Holmstrom's barge. Our plan is to get all the material on site this Sept then begin to tear down the old wall and build a new one in early May so that our spring and summer programming seasons won't be affected. This will be an engineered, long lasting, and attractive wall.
Generation to Generation is also planning for the future. As we are nearing completion of the Phase 2 projects, we are looking at Phase 3 which will be a complete renovation of Bill Mason Place. All the windows are in serious need of replacing and the original cedar siding is similarly needing to be redone. The amount of windows and siding make this a large project. Some resources have already been designated for this and as we complete funding the current Phase, we will begin invitations for this next one. Note also that this building's renovation is being done in memory of Albert Labun who made BMP a reality in his last few years 32 years ago.
I want to mention a few key people involved this summer. Thanks to Jack and Kimber Osiowy for working on the plans and providing professional assistance on the retaining wall. Thanks to Fred Dueck and his friend Warren a licensed gas line fitter for their invaluable work on the bulk propane project. And to all the volunteers and summer staff who moved a phenomenal amount of rock and worked with me on all the docks we rebuilt.
I am committed to securing the mission of MPC for future generations. That is the purpose of Generation-to-Generation Site Renewal. We have done so much together under the provision of God in order to secure the future of the special and unique place we call MacKinnon Island. After reflecting on the summer we have just had and seeing the changed lives of campers and staff, every effort we give Gen to Gen is so worth it. I believe the need for a place like MPC is higher now than ever before.
Pressing on,
Drifter
Please Invest now and help us serve current campers, staff and visitors plus create space for growth. Donate today!