Continuing our Singular Focus
By Nathan Rempel, Director of Program
Joining the Pioneer Camp Manitoba team in January, I was ready to learn and develop and grow our program at camp to be the best it could be. In addition to learning hundreds of names and of course, camp terminology, all of that quickly was put into new context.
In his program report for the summer of 2019, Graham MacFarlane had noted, "The most important thing about this summer . . . is what is common to every summer at Pioneer. We welcomed kids to the island and communicated the good news of Jesus Christ to them in an environment that is safe, fun, accepting, exciting, and challenging. We have done this for nearly eight decades, and this singular focus has neither wavered nor waned". This summer, as you can imagine, was not like the others. It was a season of making plans and then scrapping those plans; revisioning and then hitting roadblocks. And yet, even through all this, the season was not vacant, and this 'singular focus' has remained.
Around late March / early April of this year it was becoming an increasingly clear possibility that–due to the new and growing anxieties around the COVID-19 virus–we would not be able to run our typical spring program of hosting school, church, and community groups, with an essential core group of 4 month summer staff. Our spring start date of May 1st came and went, along with each new start date we had set with "open hands". With no improvements to the global or local pandemic situation, and with the helpful direction of the Manitoba and Ontario governments, the decision to cancel our summer camp program altogether was easily made. No overnight camps could run in Ontario.
After hundreds of phone calls to camper families were made, we narrowed and reoriented our singular focus. As the camp was not permitted to welcome paying campers to the island, we chose to invite our community of summer staff from previous years—young folks from age fourteen to twenty-nine–at least as many as government group-size regulations would permit, and as many as we felt comfortable hosting safely. We invited these staff to the island to join us as volunteers: to work on site renovation projects, to repair tripping and programming equipment, but most importantly to come together in Christ-centered community. Through the summer months we had anywhere from 6 to 25 of these volunteers on island at a time, with a total of around 125 volunteers.
Given that day camps were permitted to operate in Manitoba, we were able to run a four-week Leader in Training program for 10 fifteen-to-sixteen-year old's and led by 4 of our long-time summer staff. An integral aspect of our typical LIT program is experience in cabin leading. Through a partnership with A Rocha Manitoba, who has been running day camp programs for children for a number of years, our LIT's were able to gain experience and participate in the leadership of their program.
Visit Pioneer Press page for more stories
Go to Pioneer Press Page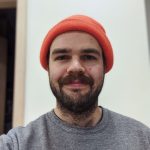 Nate "Dusty" Rempel
joined camp in 2020 and is the coordinator of summer staffing and programming. He has worked in forestry, off and on, for the past ten years and in youth ministry since 2018. He is excited about the mission of the camp, as it is now and will be in years to come.
Email Nathan: [email protected]
Related posts